Viper HS LR riflescopes feature an advanced optical system highlighted with a 4x zoom range for magnification versatility. A forgiving eye box with increased eye relief gets shooters on target quickly and easily. Built on an ultra-strong 30mm one-piece machined aluminum tube for increased windage and elevation travel and optimal adjustment.
The Viper HS LR riflescopes feature a first focal plane reticle: all reticle subtensions remain constant throughout the entire zoom range for accurate use of reticle reference marks at any magnification.
XLR MOA Reticle
Hashmarked MOA-based long range reticle with wind drift dots and 1 MOA wind reference subtensions. Good for long range shooters dialing for bullet drop or holding drop while using the reticle.
First Focal Plane
Subtensions remain consistent throughout magnification range.
XD Lens Elements
Extra-low dispersion (XD) glass increases resolution and color fidelity, resulting in crisp, sharp images.
XR Lens Coatings
Vortex proprietary XR fully multi-coated lens coatings increase light transmission for maximum brightness.
Construction Features
30mm Tube
Provides greater strength and wider adjustment lattitude as compared to a 1-inch tube.
One-Piece Tube
Maximizes alignment for improved accuracy and optimum visual performance as well as strength and waterproofness.
Aircraft-Grade Aluminum
Construction from a solid block of 6061-T6 aircraft-grade aluminum delivers increased strength and rigidity.
Hard Anodized Finish
Hard-coat anodization is durable; the low-glare matte helps camouflage the shooter's position.
Waterproof, Fogproof and Shockproof
Internal Mechanism Design Features
CRS Zero Stop: Customizable Rotational Stop (CRS) prevents dialing more than one rotation below your zero so you don't lose the zero when dialing large amounts of elevation corrections.
Exposed Elevation Turret: Open type elevation turret with 1/2 MOA clicks and 24 MOA per turn allows rapid, accurate dialing of hold over corrections when desired.
Side Parallax: Uses an adjustment mechanism on the left side of the riflescope to fine-tune focus for the purpose of reducing parallax shooting error.
Additional Features and Specs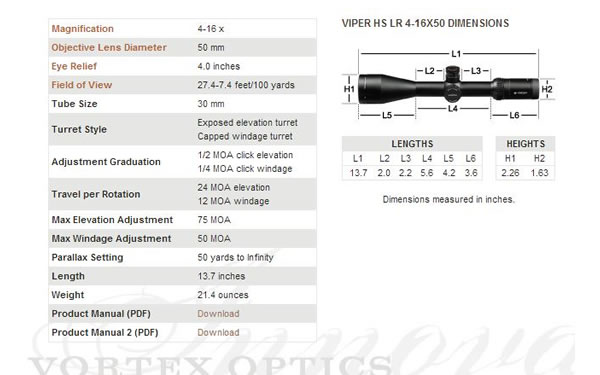 MAG-View Bar
Combines a fiber optics magnification indicator with raised rear-facing magnification references for clear viewing in low light conditions.
Radius Bar
Fiber optic turret rotation indicator provides illuminated and tactile point of reference for turret rotations. Patent 7,937,879
Fast Focus Eyepiece
Allows quick and easy reticle focusing.