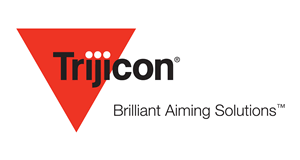 Trijicon's longest-range scope ever, it gives tactical shooters, varmint hunters and law enforcement snipers the ability to accurately extend their range in any light.
The 5-20x50 AccuPoint features easy-to-use external adjuster controls for windage and elevation adjustment and a side parallax adjuster for enhanced accuracy at long ranges. Advanced fiber-optics and tritium aiming-point illumination speeds target acquisition and extends available shooting hours. Dual-illumination system automatically adjusts aiming-point brightness to existing lighting conditions. Manual brightness override allows shooters to easily adjust the reticle to suit their preferences. Rugged, aircraft-quality, hard-anodized aluminum body offers all- weather protection. Unmatched long eye relief protects against the recoil of higher caliber rifles. Side parallax adjuster for enhanced accuracy at long range... and MADE IN THE USA.
Hybrid Duplex Crosshair Reticle
Dual Illuminated Reticle
BATTERY-FREE ILLUMINATION ALL DAY AND NIGHT. Fiber optic technology automatically adjusts the brightness level and contrast of the aiming point reticle to available light conditions and a tritium phosphor lamp illuminates reticle in low to no light. Manual brightness override allows user to easily adjust the aiming point brightness to your personal preference.


Variable Power:
Allows the user to accommodate magnification level to situational needs.


Second Focal Plane Reticle:
Reticle size remains constant but as magnification increases, the relationship of the reticle to the target gets smaller providing a more exact aiming point at higher magnfications.


Zero Forward Emission:
The illuminated reticle doesn't project any illumination from the objective lens.
Construction Features
Aircraft Grade Aluminum Housing: All-weather rugged construction protects against the toughest elements.
Superior Quality Lenses: Multi-coated lenses provide superior clarity and light gathering capabilities with zero distortion.
Easy-to-Set Adjusters: No tools needed to float the adjusters back to zero.
Matte Black Finish: Eliminates glare and light reflection.
Water-Resistant: Dry-nitrogren filled to eliminate fogging.
Additional Features and Specs
SKU: TR23-1G
Reticle: Standard Duplex Crosshair
Day Reticle Color: Green
Night Reticle Color: Green
Magnification: 5-20x
Eye Relief: 3.8-4.1 inches
Exit Pupil: 10 to 2.5
Adjustments @ 100 yards: 1 click = 1/4 MOA
Adjustment Range: +/- 20 MOA minimum
Field of View @ 100 yards: 19.1 to 5.1 Feet
Objective Size: 50mm
Tube Size: 30mm
Housing Material: Forged 6061-T6 Aluminum Hard Coat - anodized per MIL-A-8625, Type III, Class 2 dull & non reflective
Weight: 26.9 oz w/out sundshade, 29.42 oz w/ sunshade
Length: 13.6" w/out sunshade, 16.6" w/ sunshade
Illumination Source: Fiber Optics & Tritium
Includes: Sunshade, LENSPEN® (TA56), Lenscaps