Crimson Carry .45 ACP pistols have lightweight aluminum frames for easy all-day-every-day carry. Crimson Trace Lasergrips project a red dot that is visible in virtually any light, a tremendous psychological and tactical advantage that also promotes speed and accuracy under stress.
Reading the dot immediately shows the advantage of proper grip and trigger control, which can dramatically improve accuracy and reduce time between shots for any level of shooter. Combining that advantage with Kimber quality makes Crimson Carry pistols an unbeatable value. Ideal for law enforcement, home defense or concealed carry.
Custom Crimson Carry Features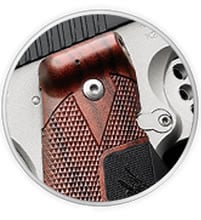 Crimson Trace Lasergrip
Comes in an exclusive rosewood finish with classic 1911 double-diamond checkering and the Kimber logo. A $369 value when purchased separately.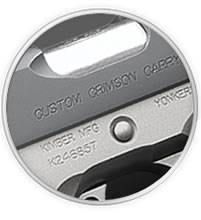 Match Grade Barrel
5-inch match grade barrel and match grade barrel bushing.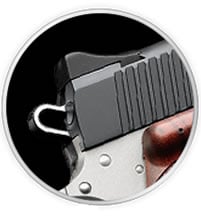 Low Profile Sights
Low profile sights are mounted in machined dovetails for strength and edges are rounded to avoid snagging.